Shasta Historical society
Heather was born and raised in Paradise, California, and has been living in the Bay Area for many years. Her education includes an Associates degree in Social Science from Diablo Valley College; Bachelors degree in History from CSU Hayward (East Bay); Masters in Museum Studies, Collections Preservation Specialization, from John F. Kennedy University.
Heather worked in the retail and legal fields before beginning her career in museums. Prior to coming to the Shasta Historical Society, she was the Collections and Historic Properties Manager for the Hayward Area Historical Society, and Deputy Director at the Los Altos History Museum. In addition, she currently sits on the board for Exhibit Envoy, an organization that offers a variety of art, history, culture, and natural history traveling exhibits.
Heather is excited to be able to move back to an area her family explored when she was young, and where she can share her passion for local history, collections and historic properties.
Alyssa is originally from Acworth, Georgia a town just north of Atlanta. Her education includes a Bachelor of Arts in Art History from Kennesaw State University in Kennesaw, Georgia and a Master's in Museum Studies from the University of Aberdeen in Aberdeen, Scotland. Prior to her career in the museum sector, Alyssa worked as an assistant in both the legal and dental fields.
Alyssa's passion for history started at an early age due in part to her hometown being rich in Civil War history. Though her education suggests an art historical background, Alyssa's love for local and oral history grew after interning as a collection's assistant for the Marietta History Center in Marietta, Georgia during her undergraduate degree. Alyssa's is a traveler by nature and is looking forward to learning about Shasta County history and being a part of a team to make that history more accessible.
Remus Moore was born in Fort Collins, Colorado, before making their way to Corvallis with the rest of their family as a child. Their education includes a Bachelor of Arts degree in Theatre Studies from Southern Oregon University, where they focused on Costume Construction and Design, Music, and Shakespeare Studies. They also received a Master's degree in Museum Studies from George Washington University, where they focused on Collections Management.
Remus worked in theatre prior to joining the Society for Creative Anachronism, where they found their love of history education, at which point they began their career in museums. While studying for their degree in Washington, D.C., Remus also worked at a number of institutions, including the Smithsonian American Art Museum, the George Washington University Museum and the Textile Museum, the U.S. State Department's Diplomatic Reception Rooms, as well as the Smithsonian National Museum of Natural History.
Remus is quite happy to be back on the West Coast after living in D.C. for almost two years and is looking forward to getting to know Shasta County and the area better while serving the community in this fashion.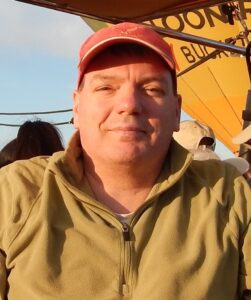 Jon grew up in Ono and attended schools in Igo, Cottonwood, and Redding. He enlisted, served, and retired from the US Air Force after 30 years in the information technology field. He has earned a master's degree in Information Technology Management and two bachelor's degrees in Computer Science and History. He began at the Shasta Historical Society in 2019 as a volunteer to pursue his interest in history and reconnect with the area and people. In September 2021, Jon was hired as a part-time employee to develop historical content for exhibits, tours, and projects to bring the history of Shasta County to the public. He is also a member of the Community Education and Development committees.
Content Developer / jon@shastahistorical.org
Jay Thompson is a descendant of California Gold Rush era pioneers of Shasta County. His paternal great, great grandfather, wife and children settled in Shasta in 1857. Jay has an interest in most things old with particular emphasis on the American West. Outside of the Shasta Historical Society you may find him (or not) practicing weekend archaeology and all that entails. Thompson has been employed at the Shasta Historical Society since October of 2009.
In the role of Visitor Services , Jay is responsible for managing the day-to-day operations of the Society library and retail operations and overseeing museum and library visitor relations to ensure the highest quality guest and patron experience at our library, museum, and store. Jay receives great professional satisfaction from facilitating historic searches to a successful conclusion.