December Book Club Selection:
What Lies Beneath: California Pioneer Cemeteries and Graveyards by Gail Jenner
Date: December 15, 2022                                                                                                                             Time: 7:00pm
Unearth the Mysteries of Those Who Lie Beneath the Oldest Graveyards in the Golden State
In each of California's 58 counties there are hundreds (and hundreds) of cemeteries, burial sites, and abandoned graveyards, some tucked away behind storefronts or under paved streets. "Burying grounds" are found in neighborhoods, pastures, fields, downtowns, backyards, or deep in the woods. In What Lies Beneath: California Pioneer Cemeteries and Graveyards, author Gail L. Jenner exhumes the stories of these pioneers buried beneath the soil, pavement, and rocks, or under the waters of this state. This guide also provides descriptions of headstone features and symbols, and demystifies the burial traditions used by the Native Americans, Spanish, Chinese immigrants, and early California pioneers and settlers.
December's Book Club selection can be purchased: Amazon Smile
November Book Club Selection:
The Women with Silver Wings: The Inspiring True Story of the Women Airforce Service Piolets of WWII by Katherine Sharp Landdeck
Date: November 17, 2022                                                                                                                             Time: 7:00pm
When the Japanese attacked Pearl Harbor in December 1941, Cornelia Fort was already in the air. At twenty-two, Fort had escaped Nashville's debutante scene for a fresh start as a flight instructor in Hawaii. She and her student were in the middle of their lesson when the bombs began to fall, and they barely made it back to ground that morning. Still, when the U.S. Army Air Forces put out a call for women pilots to aid the war effort, Fort was one of the first to respond. She became one of just over 1,100 women from across the nation to make it through the Army's rigorous selection process and earn her silver wings.
The brainchild of trailblazing pilots Nancy Love and Jacqueline Cochran, the Women Airforce Service Pilots (WASP) gave women like Fort a chance to serve their country—and to prove that women aviators were just as skilled as men. While not authorized to serve in combat, the WASP helped train male pilots for service abroad, and ferried bombers and pursuits across the country. Thirty-eight WASP would not survive the war. But even taking into account these tragic losses, Love and Cochran's social experiment seemed to be a resounding success—until, with the tides of war turning, Congress clipped the women's wings. The program was disbanded, the women sent home. But the bonds they'd forged never failed, and over the next few decades they came together to fight for recognition as the military veterans they were—and for their place in history.
November's Book Club selection can be purchased: Amazon Smile
To join the meeting: download Zoom and click here!
Meeting ID: 817 8142 8016          Passcode:261449
October Book Club Selection:
The Dreamt Land: Chasing Water and Dust Across California By Mark Arax
Date: October 27, 2022                                                                                                                                Time: 7:00pm
A vivid, searching journey into California's capture of water and soil—the epic story of a people's defiance of nature and the wonders, and ruin, it has wrought
Mark Arax is from a family of Central Valley farmers, a writer with deep ties to the land who has watched the battles over water intensify even as California lurches from drought to flood and back again. In The Dreamt Land, he travels the state to explore the one-of-a-kind distribution system, built in the 1940s, '50s and '60s, that is straining to keep up with California's relentless growth.
The Dreamt Land weaves reportage, history and memoir to confront the "Golden State" myth in riveting fashion. No other chronicler of the West has so deeply delved into the empires of agriculture that drink so much of the water. The nation's biggest farmers—the nut king, grape king and citrus queen—tell their story here for the first time.
Arax, the native son, is persistent and tough as he treks from desert to delta, mountain to valley. What he finds is hard earned, awe-inspiring, tragic and revelatory. In the end, his compassion for the land becomes an elegy to the dream that created California and now threatens to undo it.
October's Book Club selection can be purchased: Amazon Smile
September Book Club Selection:
The Stagecoach in Northern California by Cheryl Anne Stapp
Date: September 29, 2022                                                                                                                           Time: 7:00pm
New England stagemen followed thousands of bedazzled gold rushers out west in 1849, carving out the first public overland transportation routes in California. Daring drivers like Hank Monk navigated treacherous terrain, while entrepreneurs such as James Birch, Jared Crandall and Louis McLane founded stagecoach companies traveling from Stockton to the Oregon border and over the formidable Sierra Nevada. Stagecoaches hauling gold from isolated mines to big-city safes were easy targets for highwaymen like Black Bart. Road accidents could end in disaster–coaches even tumbled down mountainsides. Journey back with author Cheryl Anne Stapp to an era before the railroad and automobile arrived and discover the wild history of stagecoach travel in California.
September's Book Club selection can be purchased: Amazon Smile 
August Book Club Selection:
Mulberry Street and More by Patrick Watson (Owner of Downtwon Redding's own Sandwichry!)
Date: August 25, 2022                                                                                                                                  Time: 7:00pm
Even in the case of an event as well-known as World War II, it is still possible to find a hidden gem that many people have never heard of. In the case of this book, that little gem is the pre-fabricated harbor built and designed by the British for the express purpose of supporting the Allied invasion of France on June 6, 1944. It was known as Mulberry, and the story surrounding its evolution from a controversial and often ridiculed idea into a controversial and often ridiculed maritime fact is as entertaining as it is educational.
August's Book Club selection can be purchased: Amazon  
July Book Club Selection:
Bees in America: How the Honey Bee Shaped a Nation by Tammy Horn
Date: July 28, 2022                                                                                                                                       Time: 7:00pm
Honey bees―and the qualities associated with them―have quietly influenced American values for four centuries. During every major period in the country's history, bees and beekeepers have represented order and stability in a country without a national religion, political party, or language. Bees in America is an enlightening cultural history of bees and beekeeping in the United States. Tammy Horn, herself a beekeeper, offers a varied social and technological history from the colonial period, when the British first introduced bees to the New World, to the present, when bees are being used by the American military to detect bombs. Early European colonists introduced bees to the New World as part of an agrarian philosophy borrowed from the Greeks and Romans. Their legacy was intended to provide sustenance and a livelihood for immigrants in search of new opportunities, and the honey bee became a sign of colonization, alerting Native Americans to settlers' westward advance. Colonists imagined their own endeavors in terms of bees' hallmark traits of industry and thrift and the image of the busy and growing hive soon shaped American ideals about work, family, community, and leisure. The image of the hive continued to be popular in the eighteenth century, symbolizing a society working together for the common good and reflecting Enlightenment principles of order and balance. Less than a half-century later, Mormons settling Utah (where the bee is the state symbol) adopted the hive as a metaphor for their protected and close-knit culture that revolved around industry, harmony, frugality, and cooperation. In the Great Depression, beehives provided food and bartering goods for many farm families, and during World War II, the War Food Administration urged beekeepers to conserve every ounce of beeswax their bees provided, as more than a million pounds a year were being used in the manufacture of war products ranging from waterproofing products to tape. The bee remains a bellwether in modern America. Like so many other insects and animals, the bee population was decimated by the growing use of chemical pesticides in the 1970s. Nevertheless, beekeeping has experienced a revival as natural products containing honey and beeswax have increased the visibility and desirability of the honey bee. Still a powerful representation of success, the industrious honey bee continues to serve both as a source of income and a metaphor for globalization as America emerges as a leader in the Information Age.
July's Book Club selection can be purchased:  Amazon Smile
June Book Club Selection:
Murders, Mysteries, and Misdemeanors in Northern California by Robert Walsh 
Date: June 30, 2022                                                                                                                                      Time: 7:00 pm
Northern California has a fascinating criminal history. Some of America's most infamous criminals and outlaws lived and died in the area, including John Paul Chase, partner of Public Enemy Number One, Lester "Baby Face Nelson" Gillis. Others have come from far afield to exploit the opportunities of Californian crime. Englishman Charles Boles, AKA "Black Bart the Poet," was only one of many.
With crime, naturally, comes punishment. In 1937, the Folsom Five tried to escape, murdering Warden Clarence Larkin in the process. Instead of escaping Folsom, they entered California's history as the first men to die in its new gas chamber the next year. The legendary Battle of Alcatraz ended in bloodshed and recriminations from prison staff and convicts alike, with accusations that staff needlessly endangered convicts' lives and arranged the wrongful execution of convict Sam Shockley.
Northern California may not be as well-known for its crime as Southern California, but it's a fascinating part of the Golden State's history all the same.
June's Book Club selection can be purchased : Amazon Smile
To join the meeting: download Zoom and click here!
Meeting ID: 817 8142 8016          Passcode:  261449
May Book Club Selection:
Walkout by Henry C. Woodrun
Date: May 26, 2022                                                                                                                                      Time: 7:00 pm 
Lt. Woodrum's thirty-fifth combat mission flying the Martin Maruder B-26 was supposed to last just a few hours, but it ended up continuing three months as he struggled to survive in war-torn France. In his fascinating war memoir, Woodrum shares his true account of how he managed to evade capture while being aided by the French Underground-some of whom paid the ultimate price for their loyalty to the downed American pilot.
May's Book Club selection can be purchased: Amazon Smile
To join the meeting: download Zoom and click here!
Meeting ID: 817 8142 8016          Passcode:  261449
April Book Club Selection:
A Short History of the Honey Bee: Humans, Flowers, and Bees in the Eternal Chase for Honey by E. Readicker-Henderson
Date: April 28, 2022                                                                                                                                      Time: 7:00 pm 
A Short History of the Honey Bee starts with the story of the honey bee—why it is named Apis mellifera, how it has evolved from a solitary creature to one that travels in groups, why it stings, how pollination really works and detailing honey and its history from a wild food foraged for on cliffs to the many varieties available for purchase today. But it is the everyday importance of the bee that remains the central message. Forty percent of the world's food supply—including apples, tomatoes, and strawberries—is dependent on pollination by honeybees. Colony collapse, when the worker bees suddenly disappear and leave behind the queen and the hive, is an ecological and agricultural crisis.
April's Book Club selection can be purchased: Amazon Smile
To join the meeting: download Zoom and click here!
Meeting ID: 817 8142 8016          Passcode:  261449
March Book Club Selection:
The Invention of Miracles: Language, Power, and Alexander Graham Bell's Quest to End Deafness by Katie Booth
Date: March 31, 2022                                                                                                                                    Time: 7:00 pm                                                                                                                                                      
We think of Alexander Graham Bell as the inventor of the telephone, but that's not how he saw his own career. As the son of a deaf woman and, later, husband to another, his goal in life from adolescence was to teach deaf students to speak. Even his tinkering sprang from his teaching work; the telephone had its origins as a speech reading machine. Katie Booth has been researching this story for more than fifteen years, poring over Bell's papers, Library of Congress archives, and the records of deaf schools around America. But she's also lived with this story for her entire life. Witnessing the damaging impact of Bell's legacy on her family would set her on a path that overturned everything she thought she knew about language, power, deafness, and the telephone.
March's Book Club selection can be purchased: Amazon Smile
To join the meeting: download Zoom and click here!
Meeting ID: 817 8142 8016          Passcode:  261449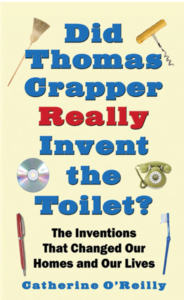 February Book Club Selection:
Did Thomas Crapper Really Invent the Toilet?: The Inventions That Changed Our Homes and our Lives by Catherine O'Reilly
Date: February 24, 2022
Time: 7:00 pm
Which came first, sliced bread or the toaster? When did most people begin wearing deodorant? Who invented the electric blanket? Catherine O'Reilly tackles questions with a smart and quirky look at miscellaneous items. Learn the real histories of the blender, the fire extinguisher, the cheese grater, the clock radio, deodorant, Post-its, fabric softener, and, of course, the toilet. These are the unknown stories of everyday items that we take for granted.
February's Book Club Selection can be purchased: Amazon Smile
 January Book Club Selection:
Shasta County Copper Towns by Ron Jolliff
Date: January 27, 2022
Time: 7:00 pm
Placer gold first attracted adventurers to the northern mines after its discovery in Shasta County in 1848, but almost immediately, valuable deposits of copper were also noted. Copper production remained idle until the Mountain Copper Company acquired Iron Mountain in 1896. The decades that followed were the greatest period of prosperity in Shasta County's history, producing towns such as Coram, Keswick, Kennett, and Copper City and attracting thousands of hardworking miners and townspeople as well as new railroads such as the Sacramento Valley & Eastern, Quartz Hill, and Iron Mountain.
January's Book Club Selection can be purchased:  Shasta Historical Society Store